jusbox - beat cafe parfum
Jusbox Perfumes reflects the affinity between music and scent, merging into one sound that evokes pure emotion. Drawing inspiration from musical icons, each fragrance pays homage to those who have left a mark on the history of music. Created and refined by the most renowned master perfumers, Jusbox excudes the quality of a made in Italy product. 

BEAT CAFE is a fragrance match inspired by Bob Dylan featuring Top Notes Coriander Seeds, Cognac, Black Pepper Heart Notes Rockrose, Tobacco, Black Leather Base Notes Vetiver, Benzoin and Cedarwood Dominique Ropian. 

Fragrance Match: Hwyl Aesop, Tobacco Oud Tom Ford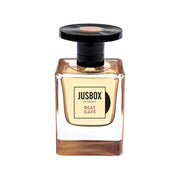 jusbox - beat cafe parfum